You are welcome to the official website of Jesus is Lord Foundation International (a.k.a. Full Redemption Chapel) under the leadership of Rev. Dr. Francis and Rev. Dr. Grace Olonade, vessels in the hands of the Almighty God, committed to preaching the undiluted Word of God and building God's End-Time Church.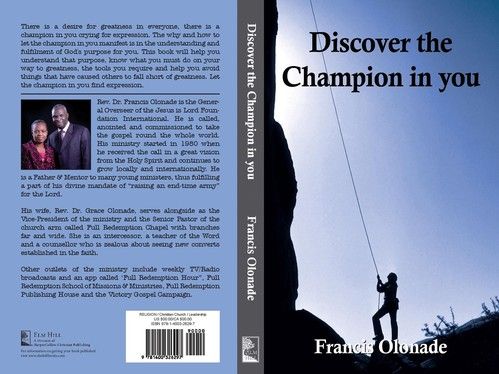 There is a desire for greatness in everyone, a champion crying out for expression. For that champion to manifest and find fulfilment, you need an understanding of God's purpose for your life. This book will help you identify and understand that purpose, unlock greatness, and avoid pitfalls.
Click the link below to give your tithes, offerings, and special seeds as the Lord lays on your heart.
Enjoy life changing messages by the Holy Spirit through His Servants.
Faith Cathedral, Opposite Divisional Police Headquarters,
Famia Road, Modakeke, Osun State, Nigeria.
Victory Service
Sundays, 8:00 am (WAT)
Full Redemption Hour
Wednesdays, 6:00 am (WAT)
Hour of Refreshing
Fridays, 6:00 am (WAT)